---
HOUSE Master Class by JARDY SANTIAGO of Soul Sector (USA)
Posted: 30 Aug 2011 07:05 PM PDT
**Going INTERNATIONAL again! Don't miss it! Reserve Now!** ON SPOTLIGHT this Mon: HOUSE Master Class by JARDY SANTIAGO of Soul Sector (USA) -Sep. 5, 7:30-9pm -P300 Reserve now! danceplanet@ymail.com Dance Planet Studio (Broadway Centrum) Aurora Blvd, QC 6219068/091755DANCE **Coming Soon: GIGI TORRES (Sep. 24 & 25)
Posted: 30 Aug 2011 06:33 PM PDT
You are subscribed to email updates from Dance Manila
To stop receiving these emails, you may unsubscribe now.
Email delivery powered by Google
Google Inc., 20 West Kinzie, Chicago IL USA 60610
| | |
| --- | --- |
| | |
---
Seattle Seahawks to Re-Sign Lofa Tatupu?
Posted: 30 Aug 2011 10:55 PM PDT
I am hearing increased rumblings that Lofa Tatupu will be returning to the Seattle Seahawks before the pre-season season ends.
Tatupu has gone un-signed since refusing to take a pay cut and he has watched as several other Seattle starters have restructured their deals. Aaron Curry left nearly $5 million on the table to buy two additional years of freedom so he can hit the open market after his fourth accrued season. Marcus Trufant lost about half of next years salary as well, but he can reportedly earn it all back by well, playing good.
It's a universal house cleaning and it could be possible that some emotion has been taken out of the equation. Multiple reports put the Seahawks as the runner up for the services of Takeo Spikes, Ben Leber, and Travis LaBoy, which might have added insult to injury. This was before the news broke about Curry and Trufant though, so the dynamics of the situation may have changed.
Tatupu is in a position of zero leverage, leverage he hoped to gain by forcing Carrolls hand after he told him to take a pay cut. He has gone un-signed and reportedly only visited one team, the Oakland Raiders, and the Washington Redskins also expressed interest.
This would be beneficial to all sides, as it does seem Seattles defense will be the only thing that will give them a shot at the playoffs; Tarvaris Jackson and that pass protection certainly aren't going to get it done (crossing fingers for Gurode)
Not only that, but if re-signed, he would give the Seahawks a sixth player in ESPN's top 200, I don't know how far that goes or matters, but it's still kind of cool.
Pete Carroll Downplays Andre Gurode Interest… Sure
Posted: 30 Aug 2011 07:33 PM PDT
It's not like he's the only one whose guilty but Pete Carroll has a nasty habit of telling little white lies especially when it comes to personnel decisions.
It's not as if I expect him to come out and say, "oh yeah, were going after Sidney Rice and Zach Miller as aggressively as we can" when pressed about those signings this off season before they're completed.
The same case goes for pro bowl center Andre Gurode, who recently visited with the team and would represent another signing of the top available option at their respective position (unless you want to argue Ryan Kalil was available).
When asked about the Gurode visit:
That's just us taking advantage of the opportunities," Carroll said. "He's kind of taking a tour right now and looking at some places.
Sorry, I don't buy that for one minute. The teams offensive line has noticeably struggled and you don't schedule a visit with the best available offensive lineman one week before the regular season starts for nothing. Not to mention the team has $15.5 million in cap space left and it would probably take about a $2.5 million cap hit to acquire the best help anyone can find right now.
He is past his prime and likely is done collecting pro bowl honors; still, he is a quality starter in the upper echelon of his position. He has the flexibility to move to guard as well. This would be ideal because it allows the Seahawks to make a pattern on the offensive line of a rookie and a veteran.
Okung-Gallery-Unger-Gurode-Carpenter
Sandwiched between two second year (Unger missed a season) and a rookie would be two stable veteran presences, this would be a very ideal situation given the current units struggles, notice Moffitt isn't in that projection, although it's been Carpenter who has been a turnstile lately.
Especially with the lose of TE John Carlson, Carroll will definitely be looking for additional presence(s) at blocking positions. Along with Gurode recent visitee FB Mike Karney all but confirms the Seahawks are putting their feelers out for some blocking.
Even if they do acquire Gurode what happens when if Okung goes down with an injury?
Tyler Polumbus-Tarvaris Jackson may very well become the worst left Tackle-quarterback tandem in recent memory…
Man why is Tarvaris Jackson my favorite teams starting quarterback… Everything else they did was great, but Pete you just dropped the ball on that one; whether it's on purpose or not I guess we'll find out if/when your selecting Andrew Luck or Matt Barkley 8 months from now.
Seahawks John Carlson Put On IR, Out For Season
Posted: 30 Aug 2011 06:35 PM PDT
Well that major coup of Zach Miller just got a hell of a lot more important with this bad news breaking, 12th men and women alike won't like this.
Incumbent starting TE John Carlson has been lost to season ending surgery and his career in Seattle may well be over as well.
His four year rookie contract expires at the end of the season and the team recently signed Pro Bowl TE Zach Miller away from the Oakland Raiders; demoting Carlson to the No. 2 spot on the depth chart.
It's unclear whether or not he would be assured a starting role elsewhere after missing a full season to surgery. He set a tight end franchise record 55 receptions in his rookie campaign and that fell to 51 (third best in franchise history), and trailed off to 31 over the next two seasons.
I will stand up for him, most who follow the Seahawks know he was frequently called upon to stay in and help aid a still porous blocking unit instead of doing much receiving.
Seattle is planning on using power running formations frequently featuring two TE sets, they really like Cameron Morrah and Anthony McCoy so it remains to be seen if they will pursue another option.
In the grand scheme of things, I see this as a hit not only to the pass offense, but the blocking overall. Carlson was still going to have his number called on a regular basis to stay in and block, especially as the No. 2 option. Without that prominent presence at No. 2 that you could rely on every down, I see them certainly trying to add additional blocking in the form of another TE or FB. Seattle native Mike Karney was also in town today (being overshadowed by Andre Gurode), and it wouldn't surprise me especially with this injury if his signing was announced by tomorrow morning, ditto for Gurode.
HOF QB Joe Namath On Jets WR Plaxico Burress: "He'll Be Damn Lucky To Finish Season"
Posted: 30 Aug 2011 06:16 PM PDT
Broadway Joe Namath has been watching Plaxico Burress for several years, and in him he sees a wide receiver that reminds him a lot of Braylon Edwards — and that's not a flattering comparison coming from Namath. The Jets Hall of Fame QB was occasionally critical of Edwards during his two seasons with the Jets. So, no, Namath isn't swept up in Plaxico Mania, saying Burress would be "damn lucky" if he makes it through the season.
"When I see Burress, certainly in the past, and Edwards, their route running and adjusting, I didn't like it — and I still don't," Namath told ESPNNewYork.com Tuesday. "I'll be surprised if Burress and (quarterback Mark) Sanchez click well and I'll be even more surprised if Burress, after being laid off for two years and change, is going to make it through the season."
Burress, 34, spent 20 months in jail for illegal-weapons possession, missing the 2009 and 2010 seasons. Namath believes the time away from football, coupled with Burress' age, will be almost impossible to overcome. "It catches up to the guys who haven't missed any time over the last two years," said Namath, who was in New York to promote Topps 2011 football cards.
"It's Lady Luck, and I think it will (catch up to him), given the age factor and his position." "We're already talking about the feet — the ankles, the feet," he continued, referring to the sprained ankle that forced Burress to miss the first preseason game. "There's a lot of running in a long season. I don't see it happening."
Coaches on the Hot Seat Entering the 2011 Season
Posted: 30 Aug 2011 05:00 PM PDT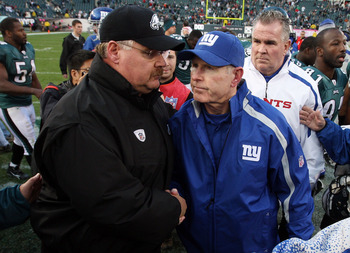 Is it getting hot in here or is it just me?
As we're inching closer to the 2011 NFL season, we'll start the season with 32 NFL head coaches.  Some are new.  Some are old.  Some are running on borrowed time.  But when the season comes to a close, not all 32 head coaches will be on the sidelines next season.  Especially when you consider the three-headed free agent coaching monster (Jeff Fisher, Jon Gruden and Bill Cowher) looking to possibly get back into coaching.  Let's take a look at which coaches around the league will be under the microscope and under fire if their respective teams don't produce.
Tony Sparano, Miami Dolphins.  Not that I'd ever feel sorry for anything related to the Miami Dolphins, but my how the mighty have fallen.  He turned water into wine in 2008.  Coming off a one-win season, Sparano took over and lead the Dolphins to an 11-win season (most since 2003), the AFC East Division champs and a playoff berth.  Since then, Miami has posted two straight 7-9 seasons and the team has sputtered with Chad Henne at quarterback.  In the offseason, owner Stephen Ross hopped a flight to California to make his best sales pitch to Jim Harbaugh in an attempt to replace Sparano.  That can't be a good sign for his job security.  Ross failed to land Harbaugh, then tried to clean up a PR mess by giving Sparano an extension.  It's clear that ownership and the fan base doesn't believe in Sparano or Henne.  They brought in Matt Moore instead of trying to acquire Kyle Orton.  All their eggs are in Henne's basket, which is an inaccurate, sketchy and inconsistent basket.  The schedule doesn't help, either.  Three of their first four games are against New England, Houston and San Diego and their first game off their bye week is at the New York Jets.  It won't be a surprise if the team quits on Sparano early in the season, and he might not last until Thanksgiving.  Sparano is about as sure a lame-duck head coach you can find in 2011.
Click HERE to read the rest
Andre Gurode Visiting the Seattle Seahawks Today
Posted: 30 Aug 2011 11:21 AM PDT
Wow, I am amazed.
Yesterday I wrote a piece about having a dream where across a television screen flashed a news update that the Seattle Seahawks had signed former Cowboys guard Leonard Davis.
For some reason it was for a five year contract, but that's besides the point.
Here's an excerpt from that article:
it would very interesting to see if they signed him or recently released Andre Gurode in the coming days, or any Cowboys offensive lineman of note.

If it does happen, well, by a stroke of luck you heard it here first!
Yes, I will sincerely take some credit for this, I called this well before any sort of breaking news hit regarding the visit, I didn't report he was actually visiting… But I mean, did you see anything else out there linking the Seahawks to Gurode before yesterday?
It's kind of surreal actually, because I wasn't going to write about it but I felt a very strong gut feeling that they were going to pursue a Cowboys lineman after seeing that in the dream.
This would be a good move for the Seahawks, Gurode is certainly a better player than Davis and would likely come in and claim a starting role. Something has to be done about the Seahawks pass protection woes. Even a quick and nimble Jackson has been getting pummeled behind Seattles green offensive line.
2011 Division Previews: NFC East
Posted: 30 Aug 2011 08:18 AM PDT
Jenkins Teaming Up With Cole In Philly: Scary
1. Philadelphia Eagles (10-6) – Problems arise on the offensive line.  Inexperience makes for an unsettling crew of linebackers.  Yet, it's quite certain the Eagles possess an abundance of talent; especially at the skilled positions.  Michael Vick's ability to improvise makes his shaky front five less of a concern, that is, unless he gets hurt.  Then, it's off to Vince Young, who's still an above-average NFL quarterback.  With Vick's dynamic ways creating opportunities, a guy like LeSean McCoy is able to slide under the radar.  Last season, McCoy went for over five yards a pop on the ground and hauled in 78 passes.  Electrifying wide receivers DeSean Jackson and Jeremy Maclin are among the elite at their respective positions due to tantalizing speed.  Both are deep threats and hold the privilege to turn a quick five-yard slant into a 75-yard touchdown.  To compliment the big-play athletes, the Eagles have stellar specialty players; tight end Brent Celek, wideout Steve Smith (former Giant; recovering from knee surgery), and running back Ronnie Brown.  Brown is the most intriguing of the trio because he could cure the team's longtime short-yardage/goal-line woes.  Two words: about time.  The former Dolphin runner is in a perfect situation, not having to carry the load, called upon to do what he does best – fight for tough, inside yards.  Nothing more, nothing less, which is ideal for the injury-prone Auburn product.
On defense, the Birds will fly high thanks to a vicious duo of Trent Cole and Cullen Jenkins on the line.  Both get to the quarterback in a hurry, and are strong in run support.  Prized free-agent acquisition Nnamdi Asomugha headlines an impressive secondary which also features Asante Samuel and Dominique Rodgers-Cromartie.  The stability at cornerback will allow the Eagles to call a more aggressive game plan on D.  Lots of different looks, blitzes, and disguises will be used.  The issues at linebacker and safety should not be too much of a factor once the youth at those areas pick up experience as the season progresses.  Projected strong safety Nate Allen's recovery from a torn patella tendon tear (December) could hinder the process, but that's why six-year veteran Jarrad Page was signed.  Nonetheless, too much firepower for this club not to win the NFC East, especially when you consider the inconsistencies of their rivals within the division.
2. New York Giants (8-8) – From Super Bowl contenders to challenging for a .500 record.  The rise back to prominence was thought to have been accomplished via draft, however, injuries have derailed those plans.  Top picks Prince Amukamara (CB, Nebraska) and Marvin Austin (DT, North Carolina) both have gotten hit by the injury bug, with Austin out for the season.  To make matters worse, standout corner Terrell Thomas is gone for 2011.  Reliable targets Kevin Boss and Steve Smith departed Eli Manning during free agency, which leaves untested replacements (Travis Beckum, Victor Cruz) to fill their voids in the offense.  Eli still has the explosive Hakeem Nicks and swift Mario Manningham to sling the rock to, and the Ahmad Bradshaw-Brandon Jacobs tandem behind him.  Overall, the offense still has this "hit or miss" feeling to them.  So, can the defensive line save the season?  Not exactly.  With Osi Umenyiora (sidelined at least 3-4 weeks) out of action, it will be difficult to expect the pass rush to mask the deficiencies of Perry Fewell's unit.  At linebacker, Jonathan Goff is nowhere near former Giant Antonio Pierce's level.  Michael Boley leaves much to be desired, as he looks the part, but doesn't play it as often as you'd desire.  Although, it's hard to fall in love with the defense minus Osi and absent of quality linebackers, there's still Justin Tuck, who's possibly the most complete defensive end in all of football.  Teaming up with Tuck, is the sensational Jason Pierre-Paul, who is nearly unstoppable at times.  If Pierre-Paul and Mathias Kiwanuka produce as consistently as Tuck does, maybe the loss/saga of Umenyiora can be forgotten.  It also helps that safeties Antrel Rolle and Kenny Phillips can cover mad ground and generate turnovers.  In the end, this year's Giants feel a lot like last year's Giants, which means: no Playoffs.  Who knows, maybe Eli has a "Tom Brady-esque" campaign and completes only four throws to the other team.
3. Dallas Cowboys (8-8) - Tony Romo is back.  And so is the offense.  With the return of Romo hope abounds for "America's Team."  Surrounding Tony are two potent after-the-catch wideouts (Dez Bryant, Miles Austin), a rock-solid reliable tight end (Jason Witten), and a pair of potential difference-makers at running back (DeMarco Murray, Felix Jones).  The line got rid of some weight, well, lots of it.  Scoring points shouldn't be a problem thanks to a recharged offense led by a healthy Romo.  Though it's a nice to see a fine-tuned scoring machine in place, in order for a true sense of revitalization in Big D to happen, execution has to transfer over to the other side of the ball.  Success can be talked about, and it will be, with new defensive coordinator Rob Ryan.  He talks a big game similar to his twin brother Rex in New York.  Yet, besides DeMarcus Ware, who can Ryan count on?  Maybe Jay Ratliff?  For his unit to match the productivity of the offense, it has to go beyond hype and motivation.  In the end, I don't have enough faith to trust a resurgence on defense like I do on offense, hence, an 8-8 result in 2011.  Reasonable expectations for a team that has a defense which lacks the playmakers to compliment the offense.
4. Washington Redskins (5-11) – Rex Grossman or John Beck?  Is the football team in the Nation's Capital aiming at running a quarterback campaign or a winning squad?  More concerned should 'Skins coach Mike Shanahan be towards running a clear-cut program, starting, by naming his lead signal caller as soon as possible.  Trash the ballots.  No more controversies.  It hurts more than it helps.  Either way, who's Shanny fooling with Grossman or Beck under center?  Already at a major disadvantage at the most important position in sports, there's no reason to believe, despite how much of an impact a change of scenery for Tim Hightower or difference Santana Moss will make, fortunes immensely spin around for the Redskins in '11.  It's unfortunate, because the offensive line actually looks set for the first time in ages.  Even more, the defense is as steady as it gets.  Topped by a menacing Brian Orakpo, Jim Haslett's ensemble mimics a playoff-caliber unit.  London Fletcher and new addition Barry Cofield make the run stopping efforts promising, while ball hawks DeAngelo Hall and ex-Ram Oshiomogho Atogwe keep the air control sharp.  A fully recovered LaRon Landry (Achilles', hamstring) and quickly developed rookie Ryan Kerrigan could easily catapult the D to top-ten status.  In conclusion, is it all enough to propel the unit to such staggering heights that it overshadows a weak, lackluster QB situation?  Highly unlikely, especially when you consider it's impossible to combine Grossman's arm strength and Beck's accuracy into the molding of one quarterback.  Too bad Tim Tebow's rapid decline makes Kyle Orton unavailable in Denver.
You are subscribed to email updates from NFL Gridiron Gab
To stop receiving these emails, you may unsubscribe now.
Email delivery powered by Google
Google Inc., 20 West Kinzie, Chicago IL USA 60610