| | |
| --- | --- |
| | |
---
Four Keys For a Cincinnati Win in Cleveland Sunday
Posted: 10 Sep 2011 03:40 AM PDT
1. Get a big game from Cedric Benson – Last December he went for 150 against the Browns in the teams 19-17 win. This time around, he may actually have to do more as it will lift a huge burden from rookie QB Andy Dalton. "If there being a rookie quarterback causes them to rely upon me a lot more, then I'm excited," said Benson. Last season in the loss in Cleveland on October 3rd, he ran for just 60 yards. That won't be enough Sunday.
2. Force a couple game-changing turnovers - Leon Hall and Nate Clements are two CB's that can come up with picks, and if Browns 2nd year QB Colt McCoy makes a mistake, one of those two guys needs to take a pick back to the house. McCoy completed 60.8 percent of his passes for 1,576 yards with six touchdowns and nine interceptions last year, and while he's usually pretty accurate, he can be had to make a few mistakes, which would be huge for the Bengals.
3. Get a close to mistake-free game from Andy Dalton - Rookie QB's usually don't fare well in their first Pro games, but when they do, it's usually due to them being careful with the ball. That will be in full effect Sunday when Dalton looks to WR's A.J. Green, Jerome Simpson, Andre Caldwell and Jordan Shipley. The four need to come up with catches and break tackles when they have the chance. Dalton went 11 of 17 for 130 yards and a score in a 24-13 win over Carolina on August 25th. That type of effort will put the Bengals in a position to at least be in the game.
4. Win the special teams battle – Josh Cribbs can turn a game around in a few seconds for Cleveland, and with the new kickoff rules, the Bengals need to keep him from gettng out and getting a return on them. "He's not going to be limited," Browns rookie coach Pat Shurmur said. "Cribbs is a fantastic player and we're going to try and put him in position to make plays – however we can do it." That means look for him to be on the field for return situations all day. The Bengals also need a good game from kicker Mike Nugent, and he can't be shanking field goals when he has a shot to put points on the board.
Poll: Thoughts on the Outcome of Sunday's Bills-Chiefs Game
Posted: 09 Sep 2011 09:18 PM PDT
New Orleans WR Colston Breaks Collar Bone in Loss to Packers
Posted: 09 Sep 2011 07:12 PM PDT
The Saints lost more than just a game Thursday night when they fell to the Packers in the season opener. In the contest, the team also lost receiver Marques Colston, who could miss about four weeks with a broken collar bone.
The person spoke to The Associated Press on condition of anonymity because the Saints have declined to release specifics of the injury.
Saints coach Sean Payton on Friday acknowledged that Colston was banged up in the final seconds of New Orleans 42-34 loss at Green Bay on Thursday night. However, Payton said he would not provide details until the Saints' next injury report is due on Wednesday.
Colston's injury raises the prospect that New Orleans could be without two key receivers against Chicago on Sept. 18. Lance Moore(notes) did not play against Green Bay because of a sore right groin and his status for the Bears game is unclear.
Click HERE to read the rest
NFL Allows Players to Wear September 11th Cleats, Gloves
Posted: 09 Sep 2011 06:54 PM PDT
The NFL relaxed its normally rigid uniform policy on Friday so players can commemorate the 10th anniversary of the September 11th attacks.
League spokesman Michael Signora tweeted that the league told its 32 clubs that players may wear special shoes and gloves from official NFL equipment licensees for Week 1 games.
The move came one day after Chicago linebacker Lance Briggs tweeted that he had expected to be fined for wearing red, white and blue cleats and gloves designed by Reebok. Briggs said it would be "by far the best fine he will ever have to pay."
NFL spokesman Greg Aiello said the league does not "anticipate any issues."
"We have extensive plans for Sunday to respectfully recognize the significance of the day," Aiello said in an email. "Lance Briggs and all players will participate."
Briggs declined to comment when he left the practice field Friday. He instead put the shoes on display in the locker room, the back of the left shoe bearing the word "Never," while the right had "Forget."
Coach Lovie Smith said he has no problem with Briggs defying the NFL dress code in this instance.
"I mean, we're going to do an awful lot before the game as an organization — the NFL as a league — to honor the victims," Smith said. "But you know, if they (the NFL) say it's OK and the guys are good with it, of course we're all for it, too."
Kansas City Chiefs running back Jamaal Charles also said on Twitter that he plans to wear Reebok-issued gloves and cleats to honor the day.
Like Briggs, Charles posted a picture online. It showed an all-red bottom surface around the cleats beneath a white shoe with large blue stripes wrapped around it and white stars along the heel. The back of the glove is all red, with the words, "Never forget," circled around the date, Sept. 11, 2001. The palm of the glove is blue, with white stars.
"I never forget," Charles tweeted.
Charles and Briggs will have some company Sunday.
Colts receiver Reggie Wayne, a five-time Pro Bowler, showed up at Friday's practice with a stars-and-stripes design on his gloves and shoes. He plans to wear the same accessories Sunday at Houston. Wayne's teammate and friend, Pro Bowl safety Antoine Bethea, is expected to don the same attire.
Shortly before the league announced its policy change, Wayne told reporters it would be the "best fine" he ever paid and that he expected the league to alter the policy within 24 hours.
He was right.
Wayne went on to explain why he felt so strongly about wearing the stars-and-stripes during Sunday's game.
"Think about it man. That's an important time in our life. A lot of people lost plenty of loved ones," he said. "It's in history. Your grandchildren and children after that, they will be hearing about that. It's definitely a time where it needs to be recognized, and that's a way for guys to put their two cents in.
"I'm going to wear it, and wear it proudly."
Raiders QB Terrelle Pryor to Appeal Five-Game Suspension
Posted: 09 Sep 2011 04:05 PM PDT
Terrelle Pryor will appeal his five-game NFL suspension, according to a person familiar with his case.
Pryor was selected by the Oakland Raiders in the third round of the supplemental draft on Aug. 22. NFL Commissioner Roger Goodell suspended him, however, for the season's first five games for manipulating his eligibility for that draft.
Although the former Ohio State quarterback agreed to the suspension, a person familiar with his case said Pryor now has decided to appeal it. The person spoke to The Associated Press on Friday on condition of anonymity because neither Pryor nor the league has announced his intention to appeal.
The NFL had no comment.
Now the players' union must file the appeal. Several members of the NFL Players Association's executive committee previously have expressed concerns about Goodell suspending a player who was not yet in the league.
The appeal likely will be filed Monday; the Raiders open the season that night at Denver. Under terms of the suspension, Pryor can't practice or play until the week of Oct. 10.
Pryor gave up his final season with the Buckeyes after an investigation into the team's memorabilia-for-cash scandal. He originally was barred from entering the supplemental draft, then was approved by Goodell, with the proviso he must sit out five games. Pryor was subject to a similar suspension had he returned to Ohio State.
Gridiron Gab NFL Week One Preview – Dallas at New York Jets
Posted: 09 Sep 2011 02:03 PM PDT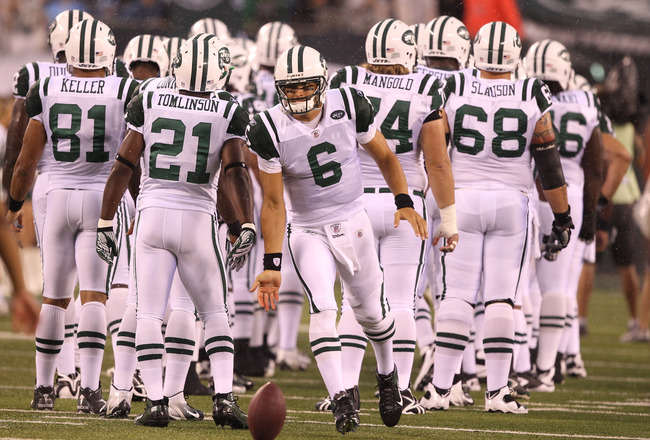 The New York Jets open the 2011 NFL Season against the Dallas Cowboys at home on Sunday night.
The game features two of the better teams in the league as both have legitimate Super Bowl aspirations. This game also features a battle between the two Ryan brothers, Rex and Rob.
With two evenly matched teams, this is shaping up to be one of the best games of the week. It should be highly contested throughout with the game coming to down to the fourth quarter.
The Jets lost their season opener last season and want to make sure that doesn't happen again. Here are 10 keys to success for the New York Jets to come out victorious on Sunday night.
1. Attack Their Secondary
The New York Jets need to come out from the beginning of the game and attack the secondary of the Dallas Cowboys.
The Cowboys will be be without starting cornerback Terrance Newman and other starter Mike Jenkins has been banged up during the preseason. Their safeties are nothing to write home about either.
Mark Sanchez needs to locate the one-on-one matchups and take advantage of them.
2. Establish the Run
While the Dallas Cowboys appear to be beatable through the air, the New York Jets can't forget about running the football.
The Jets are built to run the football and have one of the best offensive lines in the game. If they can run the ball effectively early on, it will force the Cowboys to put another defender in the box and then Mark Sanchez can feast on their vulnerable secondary.
Click HERE to read the rest
Source: Cowboys DT Ratliff Signs Five-Year, $40 Million Extension
Posted: 09 Sep 2011 10:34 AM PDT
Cowboys and three-time Pro Bowl defensive tackle Jay Ratliff have agreed on a five-year contract extension worth $40 million, according to a source.
The Auburn product is expected to sign the deal, which features $18 million in guaranteed paper, after Friday's practice. The Cowboys have had chats with his agent, Mark Slough, since the early stages of camp and Slough was at the team's Valley Ranch location earlier in the week.
The 2005 seventh-round draft pick had two years left on his contract with base salaries of $3.75 million and $4.875 million. In 2007 he signed a five-year, $20.9 million extension and has since been invited to three consecutive Pro Bowls.
Ratliff, a first-team All-Pro selection in '09, has started 63 contests in his career and has collected 25 sacks.
Gridiron Gab NFL Week One Preview – Pittsburgh at Baltimore
Posted: 09 Sep 2011 10:13 AM PDT
Opening day, and could it get any bigger than this? The two top teams in the AFC North battle for what could will be a VERY early lead in the division, but also for bragging rights for early in the division. Last season it was a big play by Defensive MVP Troy Polamalu, and Sunday, it will need that type of effort to get out of dodge with an opening day win.
1. Early Momentum – It's opening day, your on the road, and your against your biggest rivals. No better way to make things happen than to do it early and with some purpose. The Steelers could use a solid opening drive on either side of the ball to make a statement, and it also gets a lot of people wearing purple to stay quiet. More than likely, it will be up to the pass game and Big Ben to look downfield to make a play or two.
2. Make Flacco Think – Ravens QB Joe Flacco last season picked the Steelers defense apart on a last series drive to beat the Black and Gold 17-14 in Pittsburgh in week four. Then in the rematch, the team didn't just sit back on the last drive, they ran different looks at him, and it paid off as the last Ravens offensive play hit the turf with a poor pass from Flacco. He usually doesn't step up against the Steelers, and Dick LeBeau in what could be his last game in Baltimore, needs to turn the heat up with blitzes and different looks.
3. Spread em out – Like the Steelers, if there's a weak spot on the Ravens, it's their secondary and more so, the corners. Jimmy Smith, Cary Williams, Domonique Foxworth and Chris Carr can be had, and it starts with the burner – Mike Wallace. He is the playmaker for the Steelers, and if you take a few shots with him downfield like Ben did a season ago, he's bound to hit one or two, and they can pay off. If the Steelers can protect Ben long enough to allow him to get looks downfield, he's going to get one or two – book it.
Prediction – The Steelers are 7-0 in their last five games vs the Ravens when Ben Roethlisberger is the starter at QB, and the Steelers are usually a very good team on opening day. They have never lost an opener under Mike Tomlin, and I don't see it happening here. Sure, it's gonna be a tough game with its usual hard hits and high emotion, but that's where I take Tomlin over Ravens head coach John Harbaugh. He'll have his team ready for sure, and it showed with a very quiet camp where they got their work in and they went 3-1 in the preseason. The Steelers are by many experts the pick in the AFC this year, and it starts with a hard fought win in Baltimore. Steelers 17 Ravens 14
What to Watch for: Week One – Rams vs. Eagles
Posted: 09 Sep 2011 08:29 AM PDT
TV
Here's the link to the map for the game. The whole West Coast gets the game, plus from Missouri down to Texas and most of the mid Atlantic and New England.  Except for Boston.  Sorry, Boston friends.
What to Watch For
Mike Vick, Mike Vick, Mike Vick – The Rams entire defense will be focused on the Eagles quarterback and his big play ability.  They will have to force him to his right, contain him and tackle him when they have the chance.
Eagles Offensive Line – The Eagles offensive line is in somewhat of a disarray.  They are starting two rookies, one whom is "overwhelmed".  The Rams blitzing scheme will do their best to increase that feeling for the Eagles rookies.  If the Rams blitz, they will have to get to Vick, because otherwise they will be burned.
Desean Jackson – As you can see in the photo above, Jackson burned the Rams in his rookie debut on returns and receiving.  The Rams physical corners will have to get their hands on Jackson inside the 5 yard chuck zone and take him out of his game early.  If they allow him to run free, they will have a long day of chasing him around the field.
Rams Receivers – Just like every team last year, the Eagles will most likely line up to stop the run and the short passes and make Sam Bradford throw deep to move the offense.  It will be up to the Rams receivers to get open down the field with 1 on 1 coverage to move the offense down the field.
Don't Sit On Defense – In the past, Coach Spagnuolo has relied on his defense too much, to the point where they get tired at the end of games and give up big plays.  The offense will need to pull their weight in the 2nd half, keeping the defense fresh for chasing around Vick, Jackson, Maclin and McCoy.
Rookie MLB – The Eagles are starting a rookie middle linebacker in Casey Matthews.  Matthews will be relaying plays for the defense.  It will be up to Sam Bradford and Josh McDaniels to confuse Matthews in his first NFL game after struggles in the preseason.
Josh McDaniels v Juan Castillo – The Eagles moved their offensive line coach to defensive coordinator this offseason.  He will be matching wits with Josh McDaniels on the Rams side.  It will be up to McDaniels to keep Castillo on his heels in his first regular season NFL game calling defense plays.
Opening Night Shootout: Packers Triumph Saints In 42-34 Thriller
Posted: 09 Sep 2011 08:01 AM PDT
"It's a similar feel to a big game, a playoff game. I don't want to say the Super Bowl. There's a big atmosphere outside the stadium, but the only thing that matters is taking care of business on the field." – Quarterback Aaron Rodgers, on the pregame hype at Lambeau Field for Thursday night's kickoff to the 2011 NFL campaign.
The start to the 2011 NFL season lived up to all the expectations.  It was a big game, offering the feel of playoff atmosphere resonating throughout Lambeau Field.  While the past two Super Bowl winners provided offensive fireworks, it was a goal line stop that ultimately took care of business.  Clay Matthews and Morgan Burnett (14 tackles) denied rookie Mark Ingram at the one-yard line on the final play of the game.  It sealed the deal on the Saints furious fourth-quarter rally.  Despite many clamoring for a better play call, the opener was more than hype; it was pure entertainment between two NFC powerhouses.
Good: Packers second-round draft pick (final pick, #64 in round two) Randall Cobb from Kentucky scored two touchdowns in his NFL debut.  Both saw him elude tacklers on his way to the end zone.  One via the catch, while the other came by way of 108 yards (second-longest play in NFL history) on a kick return.  How did the former Wildcat standout slide past the first round?  The remarkably sensational Aaron Rodgers was 14-15, for 188 yards and three touchdowns in the first 15 minutes of action.  The no-huddle, shotgun offense allowed Rodgers to spread the ball around to Greg Jennings (does he use Stickum?), Jermichael Finley, Jordy Nelson, and Cobb with the greatest of ease.  Darren Sproles replaced Reggie Bush quite admirably, as he returned a punt 72 yards to pay dirt and piled up 75 yards receiving.  Both Drew Brees and Rodgers displayed nimble footwork in the pocket, thus, showing why the two superstar signal callers are the best at what they do for a living.  NFL fans were treated with arguably the best opening night ever.  Offense was at a premium, which meant the scoreboard was lit up, proving, it was an abundance of excitement to witness.
Bad: The two short-yardage plays called by the Saints should have been flipped around.  Down 35-27 late in the third period of play, Sean Payton dialed up a run play for Ingram on third and one at the Packers 7; which resulted in no gain.  The ensuing play on fourth and one, the same run should've been called rather than an ordinary play-action that fooled absolutely no one.  On the final play of the game at the Green Bay 1, Payton had Brees hand the rock off to the first-year back, which wasn't a bad idea, considering the Packers and everyone else believed Brees would throw the ball instead.  What was wrong with this, was not the play, but the formation.  In this case, I think you have to spread out the alignment if you want to run Ingram in that situation with the game on the line.  As for Green Bay, it's clear James Starks is the starting running back, not Ryan Grant.
Next: 1-0 Packers @ Panthers, 1 ET.  0-1 Saints vs. Bears, 1 ET.
You are subscribed to email updates from NFL Gridiron Gab
To stop receiving these emails, you may unsubscribe now.
Email delivery powered by Google
Google Inc., 20 West Kinzie, Chicago IL USA 60610